Les artisans du Camp du Drap d'Or (1520) : culture matérielle et représentation du pouvoir
The question of material culture and especially the materiality of the prestige of princes and monarchs is currently attracting the attention of historians and has been the subject of recent research. This article on a major event of the sixteenth century, the meeting of the Field of the Cloth of Gold, aims to underline the major part played by the hundreds of craftsmen without whom the meeting could not have been such a magnificent event. It will highlight the key role played by craftsmanship in the representation of political power and the influence of material devices on diplomatic issues. It will present the global aspect of the event (organizers, costs and material assets), but also describe the details of the construction of the Ardres and Guînes camps, the wealthy clothing of the monarchs, the preparation of the feats of arms, of the ephemeral decors, fireworks, masquerades and other festivities such as dancing and music etc. Finally, such a royal ceremony could not take place without gargantuan banquets, the food merchants and craftsmen from the Hotel of the King of France and from the British Household will be the subject of the last part of this paper.
La question de la culture matérielle et plus particulièrement de la matérialité du prestige des princes et des monarques suscite actuellement l'attention des historiens et fait l'objet de recherches récentes. C'est dans ce cadre que s'axe ma recherche qui s'appuie sur un événement majeur du XVIe siècle, l'entrevue du Camp du Drap d'Or, afin de faire valoir les véritables metteurs en scène de l'événement que sont les centaines d'artisans sans qui la rencontre n'aurait pu faire l'objet d'un tel déploiement de faste. Est souligné le rôle clé qu'occupe l'artisanat dans la représentation du pouvoir politique et l'importance des dispositifs matériels lors des enjeux diplomatiques. Sont développés l'organisation au niveau global des festivités (organisateurs, coûts et enjeux matériels), les détails de la construction des campements d'Ardres et Guînes, la richesse vestimentaire des souverains, la réparation des faits d'armes, des décors éphémères, des artifices, des mascarades, et autres festivités telles que les danses et la musique. Encore une fois, des artisans durent s'atteler à préparer le terrain des tournois et les décors artificiels. Des artistes tels que des musiciens et poètes accompagnèrent la fête. Enfin, une telle cérémonie royale ne pouvait se concevoir sans des banquets gargantuesques. Les marchands et artisans de bouche au service de l'Hôtel du roi de France et de la Household anglaise sont l'objet d'un dernier développement.
Fichier principal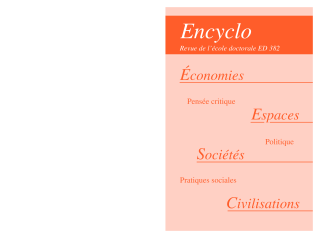 Encyclo_2_ED_382_AurA_lie_Massie_.pdf (1.18 Mo)
Télécharger le fichier
Origin : Explicit agreement for this submission