Bénéfices du soutien et des soins intégrés pour les usagers atteints de déficits cognitifs légers, démences et maladie d'Alzheimer : l'exemple d'Intermountain Healthcare.
Among chronic diseases, support and integrated care for users with mild cognitive impairment and dementia, including Alzheimer's disease, is a public health priority in France, Quebec and the United States. If progress is possible in France and Quebec, the experience of Intermountain Healthcare can be a source of convincing experiments. Its integrated care and support program for consumers with Mild Cognitive Impairment (MCI), dementia and Alzheimer's disease is developed within a well-organized health system that implements the Chronic Care Model and Team-Based Care. This creates multidisciplinary, comprehensive, protocolized and stratified support and care that is planned and monitored. Supported by an independent and secure information system and shared initial and continuing education, this program achieves the goals of improving population health, increasing quality of care and reducing per capita health care costs (Triple Aim).
Parmi les maladies chroniques, le soutien et les soins intégrés des usagers atteints de déficits cognitifs légers et de démences, dont la maladie d'Alzheimer, est une priorité de santé publique en France, au Québec et aux États-Unis d'Amérique. Si des progrès sont possibles en France et au Québec, l'expérience d'Intermountain Healthcare, peut être source d'expérimentations probantes. Son programme de soutien et de soins intégrés pour les usagers atteints de déficits cognitifs légers (Mild Cognitiv Impairment-MCI), de démences et de la maladie d'Alzheimer est développé au sein d'un système de santé bien organisé qui met en œuvre les modèles des soins chroniques (Chronic Care Model) et des soins en équipe (Team-Based Care). Cela crée un soutien et des soins multidisciplinaires et globaux, protocolisés et stratifiés, planifiés et suivis. Soutenus par un système informatique indépendant et sécurisé ainsi que par des formations initiales et continues partagées, ce programme atteint des objectifs d'amélioration de la santé de la population, d'accroissement de la qualité des soins et de réduction des coûts des soins de santé par habitant (Triple Aim).
Fichier principal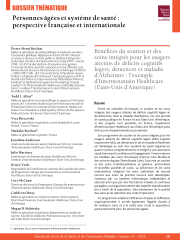 Bénéfices du soutien et des soins intégrés pour les usagers atteints de déficits cognitifs légers, démences et maladie d'Alzheimer JDSAM-31.pdf (3.81 Mo)
Télécharger le fichier
Origin : Explicit agreement for this submission