Lexico-grammaire et textométrie : identification et visualisation de schémas lexico-grammaticaux caractéristiques dans deux corpus juridiques comparables en français
This article examines lexico-grammatical (LG) patterns associated with three support verbs in French (effectuer, réaliser, procéder) in two comparable corpora (a corpus of European directives written in French, and a corpus of texts transposed into French national law). To this end, we use Le Trameur, a textometric tool designed for the systematic comparison of text data (and which measures: relative frequency in each corpus part, characteristic elements, repeated segments, co-occurrence, poly-cooccurrence, etc.). Quantitative methods such as these encourage the linguist to adopt a precise research protocol, as well as to revise his / her approach to the basic units of textual analysis during the analytical process. Finally, it is possible to display lexico-grammatical and semantic distinctions between lexemes, which would otherwise be unobservable out of context, thus allowing the researcher to identify constructions considered as characteristic features of 'Eurolectal' as opposed to 'national' technocratic French.
Nous examinons ici les schémas lexico-grammaticaux (LG) associés à trois verbes supports (« effectuer », « réaliser », « procéder ») dans deux corpus juridiques comparables (un corpus de directives européennes rédigées en français et leur transposition en France dans les textes de lois). A cette fin, nous utilisons Le Trameur, un logiciel de textométrie qui permet une comparaison systématique des données textuelles en mobilisant plusieurs méthodes statistiques exploratoires : analyse des fréquences par partie, spécificités, segments répétés, co-occurrences, poly-cooccurrences, etc. Le recours à ce type d'outils permet au linguiste d'élaborer des unités de base de son système analytique en suivant un protocole de recherche précis, qui tient compte des indices quantitatifs. Finalement, des distinctions lexico-grammaticales fines entre des lexèmes dont le sémantisme serait trop proche pour une comparaison hors contexte, sont visualisées de façon synthétique au fil du texte, tout en permettant de différentier certaines constructions spécifiques du français « eurolectal » et les éléments du discours technocratique « national ».
Fichier principal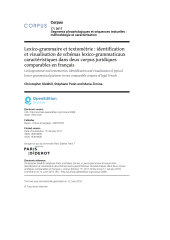 Gledhill, Patin, Zimina 2017 Identification et visualistion des schémas lexicogrammaticaux caractéristiques dans deux corpus juridiques comparables.pdf (559.09 Ko)
Télécharger le fichier
Origin : Publisher files allowed on an open archive