CHRONIQUE -5-L'action de l'ONIAM substitué contre l'assureur soumise à la prescription biennale
Consistent case law enables ONIAM the benefit from the insurance policy taken out by the blood transfusion center in the event of transfusion contamination. The victim, contaminated by the hepatitis C virus, attributed his contamination to blood transfusions for which a summary expertise was sought, and could not be completed because of his death. However, in the process, ONIAM replaced EFS (French Blood Establishment). The Court's judgment clearly recalls that "ONIAM thus benefits a direct legal action against insurers". The author then specifies ONIAM's ability to take legal action and that it is subject to the two-yearly limitations.
Une jurisprudence constante permet à l'ONIAM de bénéficier du contrat d'assurance souscrit par le centre de transfusion sanguine en cas de contamination transfusionnelle. Ici, la victime d'une contamination par le virus de l'hépatite C a imputé cette contamination à des transfusions sanguines sollicité une expertise en référé, qui n'a pu être menée à terme en raison de son décès. Mais en cours de procédure, l'ONIAM s'est substitué à l'EFS. L'arrêt de la Cour rappelle clairement que « l'ONIAM bénéficie ainsi d'une action directe contre les assureurs ». L'auteur précise alors les facultés d'agir de l'ONIAM et qu'elle est notamment soumise à la prescription biennale.
Fichier principal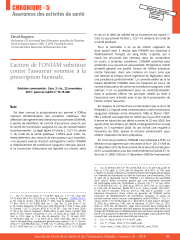 JDSAM_19_D_Noguero_L'action de l'ONIAM susbtitué contre l'assureur soumise à la prescription biennale.pdf (458.48 Ko)
Télécharger le fichier
Origin : Explicit agreement for this submission