Responsabilité et indemnisation Prescription et consolidation du dommage
The author comments on the Distilbène litigation from the angle of the prescription of the action for personal injury compensation. A specific concept to personal injury, consolidation of injury is the moment when the injury has become fixed and permanent, such that treatment is no longer necessary, and that it becomes possible to assess the existence of a permanent injury to physical and mental integrity. A complex concept for the author, the starting point of the limitation period is the time of the damage consolidation as illustrated by a recent judgment of the Court of Cassation. Finally, it stresses that the determination of the date of damage consolidation belongs to the medical expert who uses a "chronological method". This can have important implications for limitation periods, as in this case.
L'auteur commente le contentieux du Distilbène sous l'angle de la prescription de l'action en réparation du dommage corporel. Notion propre au dommage corporel, la consolidation du dommage est le moment où les lésions se sont fixées et ont pris un caractère permanent, tel qu'un traitement n'est plus nécessaire si ce n'est pour éviter une aggravation, et qu'il devient possible d'apprécier l'existence éventuelle d'une atteinte permanente à l'intégrité physique et psychique. Notion complexe pour l'auteur, elle développe le point de départ du délai de prescription au moment de la consolidation du dommage illustré par un arrêt récent de la Cour de cassation. Elle souligne enfin que la détermination de la date de consolidation du dommage appartient à l'expert médical qui utilise une « méthode chronologique ». Cela peut avoir des enjeux importants sur les délais de prescription comme en l'espèce.
Fichier principal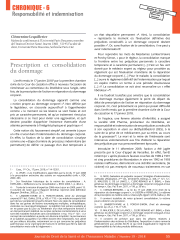 JDSAM_19_C_Lequillerier_Prescription et consolidation du dommage.pdf (433.43 Ko)
Télécharger le fichier
Origin : Explicit agreement for this submission