Etre un jeune entrepreneur associatif à Paris : enquête sur un horizon citoyen
Abstract This article highlights, at time of democratic disillusionment, the transformation of the citizenship done by the civil society organizations, related to the Economy of Solidarity, on the Parisian territory. In this context, we analyse, comparatively speaking, NGO's with their root historicaly anchored in the parisian territory and young NGO's, also called "NGO's entrepreneurs". This analysis is based on a large scale empirical survey, mixing observations, focus group and semi-structured interviews. The author questions here four dimensions in the renewal of the "updated" citizenship: how the creator of an NGO tries to find new ways of work, the reinvention of new democratic and extensive way of life, the ambivalence of politization, and the strewing of common democratic values.
Résumé L'article s'intéresse, à l'heure du désenchantement démocratique, à la recomposition de la citoyenneté exercée par les acteurs associatifs de l'économie solidaire du territoire parisien. Dans ce cadre, et en prenant appui sur une enquête empirique de grande ampleur et ses premières hypothèses et résultats, mêlant observations, focus groups et entretiens semi-directifs, il analyse de manière comparative des associations de l'économie solidaire, historiquement ancrées sur le territoire parisien et également un sous-ensemble de jeunes associations appelées en l'état «entrepreneurs associatifs» parisiens, ici au coeur de notre exposé. L'auteure interroge ici quatre dimensions de renouvellement de la citoyenneté qui ont pu être mises en évidence: la place de l'entrepreneur fondateur dans la construction de nouvelles formes de travail, la réinvention d'un mode de vie démocratique totalisant, les contours d'une politisation ambivalente et les potentialités de diffusion de ces nouveaux modèles démocratiques.
Fichier principal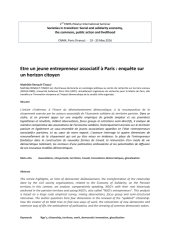 MATHIDE-RENAUD-TINACCI-Etre-un-jeune-entrepreneur-associatif-à-Paris-V5-corrRS-1.pdf (151.59 Ko)
Télécharger le fichier
Origin : Files produced by the author(s)