Ralph Waldo Emerson, ou le génie de l'imitation
Emerson's essays testify to the writing subject's desire for originality, his will to stop "[groping] among the dry bones of the past" (Nature, 27) in order to project himself ahead, literally to ex-press himself. This prospective impulse is however undermined by the subject's realization that he is "warped by [his predecessors'] attraction clean out of [his] own orbit, and made a satellite out of a system" ("The American Scholar," 59). That tension between originality and imitation, creation and quotation, leads the Emersonian subject to boast his inalienable right to plagiarism, counterfeiting and despoilment. Imitation, then, would be the genius's birthright, the condition of his originality. For Emerson, imitation is neither what the subject cannot reject, nor what he must accept. Rather, mimetic appropriation – what "Quotation and Originality" calls "assimilating power" – becomes the means for self-invention as Emersonian imitation involves imitating nothing but what comes ahead.
Les textes d'Emerson sont traversés par un désir d'originalité par où la conscience écrivante entreprend de se dégager de l'emprise funeste du passé pour se porter sans cesse au-devant d'elle-même. À cette pulsion projective répond toutefois un mouvement de force contraire qui la ramène dans l'orbe de ses prédécesseurs qu'elle se découvre contrainte de répéter, d'imiter. Cette tension entre originalité et imitation, création et citation, conduit le sujet émersonien à revendiquer, sans vergogne et non sans forfanterie, le droit au plagiat, à la contrefaçon, à la captation d'héritage : l'imitation serait bel et bien la condition même de l'originalité ; il n'y aurait de génie que de l'imitation. Alors se dessine une autre relation à l'imitation qui ne prend la forme ni de son impossible rejet, ni de son acceptation résignée, mais envisage l'appropriation mimétique comme le moyen de s'inventer soi-même et conçoit la remontée vers le passé comme une manière de se projeter vers l'à-venir – mimesis paradoxale où ne s'imiterait finalement rien d'autre que ce qui vient.
Fichier principal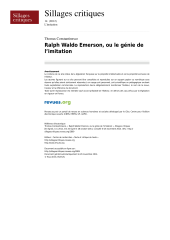 sillagescritiques-2809-14-ralph-waldo-emerson-ou-le-genie-de-l-imitation.pdf (172.89 Ko)
Télécharger le fichier
Origin : Publisher files allowed on an open archive