L'autobiographie ou l'art de la vie dans A Small Boy and Others de Henry James
Although Henry James always maintained that "it is art that makes life," he did start writing his autobiography in the last years of his life, telling the story of his calling as a writer under cover of paying tribute to his brother William's genius. The tension between self and other is at the core of James's autobiographical project, which consists paradoxically in looking for oneself the better to lose oneself. A Small Boy and Others thus repeats and compounds the small boy's experience of life as nonlife. Yet in withdrawing from his own life, James leaves it to be re-imagined and recreated, so that his evasion from life allows him to develop his capacity for wonder and to become a vessel for the manifold impressions to which his consciousness is exposed and which he transforms into a series of scenes that make up his life. In the end, however, far from coalescing into a consistent and meaningful whole, the multiplicity of impressions disorients the teleological effort underlying James's autobiography and exposes the very otherness that is constitutive of selfhood. For James then, writing his life as "a small boy" means ultimately telling the story of his being haunted by the "others" that his title hints at and whose inescapable presence around and within him contributes to making and unmaking his sense of self.
Bien qu'ayant toujours soutenu que « c'est l'art qui fait la vie », c'est à l'approche de la mort que Henry James se lance dans l'écriture autobiographique et entreprend, sous couvert de raconter la vie de son frère William, de rendre compte de la genèse de sa vocation d'écrivain. La difficile élaboration du rapport entre soi et autrui, où l'admiration pour le frère génial se double de la reconnaissance chez le jeune Henry d'une incapacité à vivre pleinement sa vie, est d'emblée au cœur de cet exercice de remémoration paradoxale qui consiste finalement à se chercher pour mieux se perdre. Autobiographie d'un non-sujet, A Small Boy and Others confirme et redouble l'expérience de la vie elle-même comme non-vie. En s'absentant ainsi de sa propre vie, le sujet, l'écrivain, la laisse toutefois intégralement disponible à la recréation par l'écriture, et le retrait hors de l'existence lui permet de développer sa capacité d'émerveillement, son aptitude à se faire le réceptacle des innombrables impressions auxquelles il est exposé et que nous le voyons transformer petit à petit en une succession de scènes qui s'enchaînent les unes aux autres pour former la trame de son existence. Au bout du compte, cependant, loin de s'ordonner en un tout cohérent, la multiplicité des impressions qui affectent la conscience révèle la profonde altérité du sujet à lui-même et désoriente le projet autobiographique, qui ne parvient pas à prendre la forme rectiligne d'un récit des origines. Écrire sa vie, c'est alors raconter sa hantise par tous ces « autres » auxquels renvoie le titre et qui font et défont continûment l'identité du sujet autobiographique.
Fichier principal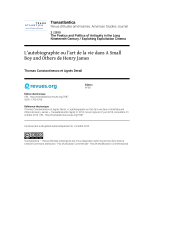 transatlantica-7687.pdf (852.69 Ko)
Télécharger le fichier
Origin : Publisher files allowed on an open archive