Our bodies-ourselves ? Discrimination et émancipation corporelle dans la pensée féministe allemande
At the example of four German feminist thinkers, this article seeks to point out the place of the body in the idea of bodily emancipation. Instead of searching for a German particularity, I am suggesting to question the feminist slogan (My body is mine!) by going back to these thinkers. I am analyzing the theoretical implications of these politics that are still typical in feminist struggles today. These reflections of corporeality are embedded in an analysis of the concept of emancipation, a concept that as I suggest is linked to ideas of modernity. Unlike earlier significations, modern emancipation is understood as the fight for independence by your own forces, like a counter-power that is directed against discrimination. Therefore the pair discrimination/emancipation already implies the taking of power, the empowerment.
En prenant l'exemple de quatre auteures de la pensée féministe allemande, cet article cherche à saisir la place du corps dans les concepts d'émancipation féministe. Loin de m'intéresser à une soi-disant spécificité de la pensée féministe allemande, je propose d'interroger le mot d'ordre du mouvement féministe (Mon corps m'appartient !) par une révision de ces travaux. J'analyse les implications théoriques de cette politique qui est toujours d'actualité dans les luttes féministes de nos jours. Ces réflexions sur la corporéité seront accompagnées d'une analyse du concept d'émancipation, dont je soutiens que notre acception est issue d'une pensée de la modernité. Contrairement à des significations antérieures, l'émancipation moderne signifie la lutte pour l'indépendance par ses propres forces, comme un contre-pouvoir qui se dirige contre la discrimination. La paire disscrimination/émancipation implique donc déjà l'idée de la prise de pouvoir, l'empowerment.
Fichier principal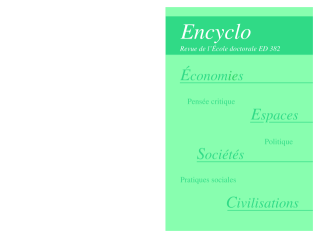 Encyclo_3_Cornelia_Moser.pdf (225.8 Ko)
Télécharger le fichier
Origin : Publisher files allowed on an open archive