La pratique socratique de Hannah Arendt et Leo Strauss
Both Hannah Arendt and Leo Strauss describe our epoch as a time of political, moral and intellectual crisis. Unprecedented events and the incapacity of the inherited categories to comprehend them lead the authors into a quest for new ways of understanding the present. They both consider that the breach of the thread of tradition can liberate our thought and this idea guides them to a reinterpretation of the political and intellectual history of our civilization. Thus, Arendt and Strauss resort to the figure of Socrates in order to rethink the origins of tradition and to uncover new significations and tools in western history. Yet, while Socrates is a model for both authors, the meaning of his life is understood differently. This divergence is eloquent regarding the distance between their points of view. In this article I use the different interpretations of Socrates to compare the thoughts of Arendt and Strauss. Even if they understand Socrates' heritage in a radically different manner, both find a similar teaching: a practice rather than a comprehensive theory.
Tant Hannah Arendt que Leo Strauss décrivent notre époque comme un temps de crise politique, morale et intellectuelle. L'apparition d'événements sans précédents et l'inadéquation des catégories héritées pour les aborder conduisent les auteurs à affirmer la nécessité de développer des nouvelles façons de comprendre le présent. Les deux auteurs considèrent que la rupture du fil de la tradition peut libérer nos capacités de réflexion, et à partir de ce présupposé, ils cherchent à réinterpréter l'histoire politique et intellectuelle de notre civilisation. Ainsi, Arendt et Strauss recourent à la figure de Socrate pour repenser les origines de notre tradition et pour y découvrir de nouvelles significations et des nouveaux outils pour faire face aux défis de notre temps. Mais, tandis que Socrate est un modèle pour les deux auteurs, le sens de sa vie est interprété de manière radicalement différente, et cette divergence met en évidence l'énorme distance qui sépare les deux oeuvres. L'objectif de cet article est ainsi de comparer les oeuvres de Strauss et Arendt à partir de leurs différentes compréhensions de la figure de Socrate. Même si Arendt et Strauss interprètent l'héritage de Socrate différemment, tous deux trouvent dans sa vie un enseignement similaire : ce qu'ils apprécient chez Socrate est une manière de traiter les problèmes humains, une pratique plutôt que une certaine doctrine.
Fichier principal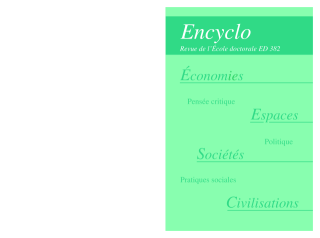 Encyclo_3_Maria_Dolores_Amat.pdf (243.62 Ko)
Télécharger le fichier
Origin : Publisher files allowed on an open archive