Malades, disparus et suppliciés : l'in-corporation de la violence sociale et politique au Venezuela
This paper examines three specific situations in which the body - disappeared, sick or suffering - becomes the basis for the relation between individuals and Venezuelan State bodies. The political embodiment is treated by the case of disaster victims (massive floods and landslides had wrecked the Vargas State and the Caracas metropolitan area in December 1999). The ethnography shows how they had to continually prove the fact of their genuine physical distress in order to get aid. Analyzing the social violence that followed the mudslides, I argue that the disappearances of the looters arrested during the vandalism are the direct consequence of the abandonment of civil rights. Only the "biological body" remains as a basis for appeal to the state in law.Thus, the self-inflicted violence in radical political demonstrations is analyzed in order to show how direct solicitation of sovereign power for assistance is often played out in a performative context.
Cet article examine trois situations dans lesquelles le corps physique - disparu, malade ou supplicié - devient le socle de la relation entre les individus et l'État. L'incorporation politique est analysée à partir du cas des sinistrés des coulées de boue qui ont dévasté l'état de Vargas en décembre 1999. L'ethnographie montre comment ils devaient faire preuve de leur légitimité en tant que victimes par le biais de la maladie. L'analyse des violences post-catastrophe et les cas des disparitions forcées des pilleurs montre que suite à l'élimination de la condition citoyenne des pilleurs, ce qui reste c'est le corps physique, en l'occurrence disparu. Ce travail avance les premiers résultats d'une recherche sur le corps protestataire et plus particulièrement sur les violences auto-infligées. On montre comment l'appel au pouvoir souverain se fait pour demander de l'assistance à partir de la performance de la souffrance.
Fichier principal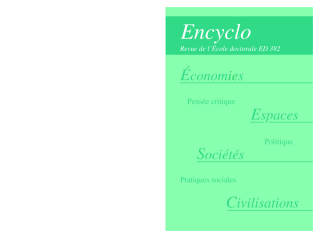 Encyclo_3_Paula_Vasquez_Lezama.pdf (248.49 Ko)
Télécharger le fichier
Origin : Publisher files allowed on an open archive