Les femmes dans l'armée française pendant les guerres (XIXe-XXe siècles) : histoire, historiographie et problématique de genre
The presence of women on the Front was no new phenomenon in the twentieth century, but their relationship with the armed forces, violence and fighting varied. In these fields, which are traditionally and "naturally" reserved for men, women have frequently been the object of criticisms, analyses and legends. To understand the closed world of the army as a male stronghold, it is sometimes necessary to return to former times when women participated in armed combat, just like men. This article presents the different approaches which were adopted for my doctoral thesis in history, "The feminization of the French army during wartime (1938-1962): the issues and reality of an irreversible process". First, the relationship between women and the army will be discussed, and then the problem of gender will be analysed from a multidisciplinary perspective.
Au XXe siècle, la présence des femmes au front n'est pas une nouveauté mais les relations qu'elles entretiennent avec les forces armées, la violence et le combat, ne sont pas pour autant constantes. Dans ces domaines traditionnellement et " naturellement " réservés aux hommes, les femmes sont l'objet, depuis longtemps déjà, de critiques, d'analyses et parfois de légendes. Pour comprendre l'herméticité du bastion masculin de l'armée, il faut parfois remonter à des temps anciens pendant lesquels des femmes se sont battues comme les hommes, les armes à la main. Cet article propose de présenter les approches qui ont été adoptées pour l'élaboration de mon doctorat d'histoire intitulé " La féminisation de l'armée française pendant les guerres (1938-1962) : enjeux et réalités d'un processus irréversible ". Deux points seront développés : les relations entre les femmes et l'armée d'une part, et la problématique du genre au coeur d'une transversalité disciplinaire d'autre part.
Fichier principal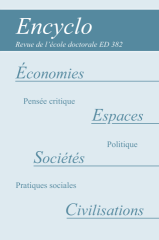 Encyclo_2012_Elodie_Jauneau.pdf (129.23 Ko)
Télécharger le fichier
Origin : Explicit agreement for this submission